Vendor profile: Eyo EmployeeApp
Posted 9 Sep 2015 - 12:00 by Intranetizen
The Intranetizen team are often asked advice about intranet vendors that supply software and hardware solutions to run your intranet. Whilst we have 44 years of blue-chip intranet experience between us, in common with many intranet practitioners, we have relatively limited experience of the 200+ software systems that companies use.
To help you, to help us and to help the vendors themselves, we run a series of posts showcasing intranet companies. We don't ask for any payment to feature them and we aim to include any relevant platform that is willing to openly respond to our questions.
We've supplied them with the same standard set of questions and will publish their answers in their own words to ensure equity! All the images have been supplied by the company themselves and are reproduced with permission.
Today, we showcase Eyo EmployeeApp.
In a brief paragraph, who are you?
The Eyo EmployeeApp allows companies of any size to create their own mobile app for internal communications. It comes with a build-in CMS, securely integrates with existing intranets and active directories and can be set up within minutes.
Briefly describe your product's history? Why did you start it, where does it come from?
The main motivation and insight comes from many years of intranet consulting. Despite all change management efforts and new social features – most intranets still have a disappointing reach. Internal communicators in manufacturing, retail, hospitality, healthcare and many other industries face the special challenge of offline employees. Those workers who aren't sitting in front of a computer at work are probably not going to spend a ton of time on the intranet. They're also not likely to have a company email address.
Describe your typical customer – what kind of company, what size, what are the kinds of problems they need to solve?
Our typical customer employs many non-desk workers. Companies can spend millions of dollars in advertising to promote the brand promise, but the customer experience comes down to the worker standing behind the cash register. Great customer experience starts with informed and involved frontline employees!
Which feature(s) of your product do your customers rave about most?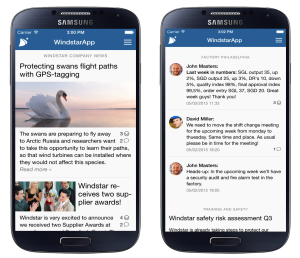 Our news management capabilities. News and updates are at the centre of the EmployeeApp and we offer an unmatched flexibility to configure and personalize news channels. It's fun to showcase this to communication managers who are currently suffering from unmanageable enterprise activity streams.
Which feature(s) of your product do you feel are most under-used?
We offer an easy approach for individual extensions. Many customers are interested to see that flexibility, but prefer to start with the existing functionality. However, extensions and integrations are often on the roadmap – as a second or third step. We offer an easy approach for individual extensions like forms, canteen plan, events or vacation approval.
How much customisation does your product typically need / how much to you recommend your customers make?
Extensive configuration can be done (no coding required). We offer a standard customization to create individual branded apps for iOS and Android.
What advice would you give a company planning to invest in a new intranet platform? / what are the most important factors to consider?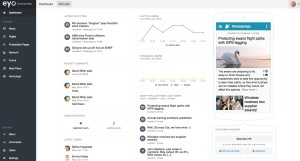 Think about your target groups. Count real numbers to get a feel for your priorities. How many workers are there in production or on the customer frontline? How many information workers do you employ? Intranets are often built for this most demanding group of employees – no matter how small the proportion of information workers might be.
What's your cost model? Free; one-off; per seat per month charging; something else?
Per user, Non-profit or educational discounts
What are the hosting options?
Public cloud
Who are your main competitors?
Until now, custom apps are often built from scratch to create mobile channels. However, custom build apps usually are more expensive, take more time and show larger project risks.
What do you need from *your* customers to deliver intranet success?
Mobile devices like smartphones are not just another channel. The particular circumstances of the usage in this channel result in entirely new use cases. One example for internal communication is to have more local part-time editors. It is easy for them to contribute short updates or pictures without having to use a complex CMS. Communicators should strive to explore these new opportunities. Exiting times for employee communications!
What does the future have in store for your product?
Standard integrations (i.e. SharePoint), more (customer requested) extensions, best in class news functionality. We are currently working on 1:1 and group chat – this will be part of the product by November this year.
What does intranet 2017 look like?
We do not expect large platforms that try to support all use cases and target groups. This would repeat the mistakes of the large employee portals era, where a lot of time and money went into "integration palaces" with disappointing usage rates.
Who should Intranetizen readers speak with to find out more about your product?
If you are eager to test the product yourself – pick up a free login from our website: http://www.eyo.net 
What question should we have asked? And if we had, what would the answer have been?
Q: Why is mobile progress of intranets slower than many of us expected?
A: Mobile is much more than just offering your intranet with responsive design. The major challenge is to find the optimal path between two opposing goals of modern intranets: on the one side it is rise of collaboration and thus more decentral structures, complexity and sensitive data. On the other side we see high demands for easy and mobile access – even from private devices. It is hard to reconcile both opposing goals within one platform. That is the reason why mobile is often moved at the end of the feature backlog. We think "mobile" is not a feature. "Mobile" is a strategy.