Where work is headed: the 2017 Digital Workplace Radar
Posted 24 Jan 2017 - 08:00 by Step Two
The concept of the digital workplace continues to evolve, and it's a journey rather than a static destination. The challenge for teams in this ever-shifting space is to keep a focus that addresses immediate needs, while keeping an eye towards the future.
Last year we introduced the Digital Workplace Radar as a model for tracking what's arrived, and what's still in flight. At the start of 2017, we share an updated version of the radar.
2017 Digital Workplace Radar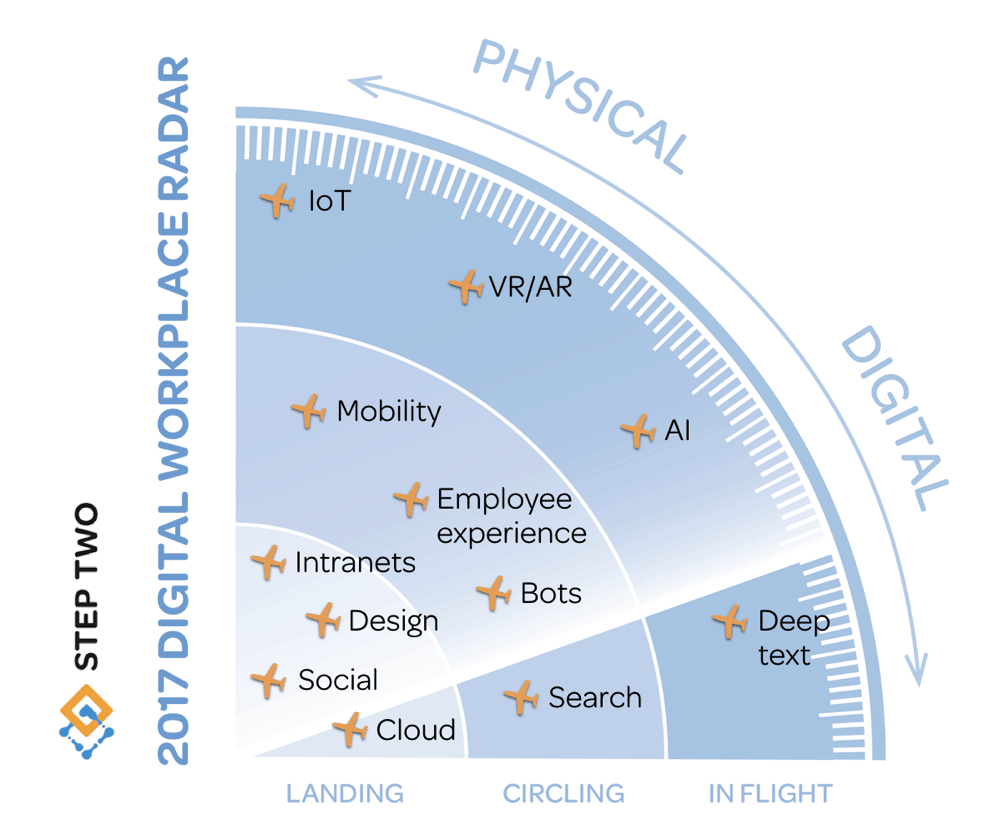 The Digital Workplace Radar tracks technologies and topics that are landing (current priorities and projects), circling (coming in the near term) and in flight (longer-term and more speculative). It also places technologies on a continuum from purely physical to entirely digital.
A commentary on each of these items is provided in the sections below.
The #DigitalWorkplace Radar tracks technologies that are landing, circling and still in flight
Click To Tweet
Landing
Since 2016, the shift towards more flexible workplaces is now well underway, and increasingly taken for granted.
This makes the priority areas for 2017:
Intranets: despite being described as 'dead' more times than can be counted, intranets have gained a renewed focus and vigour. In 2017, organisations will ramp up the delivery of modern intranets that provide a robust mix of capabilities, across publishing, collaboration and business processes.
Cloud: CIOs and IT departments have shifted to being 'cloud friendly' across almost every industry. Platforms such as Office365 and Salesforce are now becoming the assumed approach for many businesses, driving a huge shift in working practices.
Social: enabled by the shift to the cloud, organisations are revisiting collaboration and social tools, with an eye towards increasingly productivity, beyond just 'sharing'. Office365 continues to dominate, but Facebook, Dropbox, Slack and others are offering stiff competition.
Design: approaches such as design thinking have become well-understood in the enterprise space, following behind customer-facing transformations. The word 'design' will increasingly dominate thinking and planning.
Enterprise #social has become mainstream, with strong competition between platforms #ESN…
Click To Tweet
Circling
What remains stuck in a holding pattern is as interesting as what's new in the near term for digital workplaces:
Mobile: despite the total dominance of mobiles in our personal lives, enterprise mobility continues has still not landed. We continue to see many layers of enterprise mobility, with a growing recognition that just 'doing responsive design' is not enough.
Search: another long-standing need, search has been neglected and often forgotten over the last decade. This is changing, with new push to tackle enterprise search strategically (see the 2nd edition of the Enterprise Search book for a current perspective).
Bots: taking many by surprise, significant energy is being devoted to bots in the enterprise, again driven by consumer changes. This offers an entirely new interface and user experience for the digital workplace, but delivered projects are still thin on the ground.
Employee experience: just as user experience (UX) has grown to encompass customer experience (CX), there is a growing recognition that the employee experience (EX) is important, beyond just delivering tools and features.
Employee experience #EX is the next big trend for organisations #digitalworkplace
Click To Tweet
In flight
The distant horizon continues to excite leaders and big thinkers, but there is still some time before these items come to ground:
VR/AR: virtual reality and augmented reality are steadily growing in the consumer space (driven mainly by gamers), but beyond a few examples, enterprise deployment remains distant.
IoT: the 'internet of things' will interconnect the devices used in the workplace, giving intelligence to formerly 'dumb' hardware. This will bring a new working relationship between humans and technology, for the benefit of both.
AI: artificial intelligence has become a new cause célèbre, driven almost entirely by the successes of Watson from IBM. While many enterprise applications have already been found, it's not yet clear how it will affect daily work and the design of the digital workplace.
Deep text: this new field draws on text analytics, search and AI to make sense of unstructured information. See the Deep Text book by Tom Reamy for a clear view of this emerging practice.
Deep text will have a big impact on #InformationManagement within organisations #digitalworkplace
Click To Tweet
Towards the future
The digital workplace is taking a multi-speed journey, with some technologies achieving rapid recognition and adoption, while others seemingly perpetually stalled. What is clear, however, that the way we work will be changing radically over the next few years.
We are working with a wide range of organisations on digital workplace visions and plans. Get in touch if you'd like our help or advice.
The post Where work is headed: the 2017 Digital Workplace Radar appeared first on Step Two.